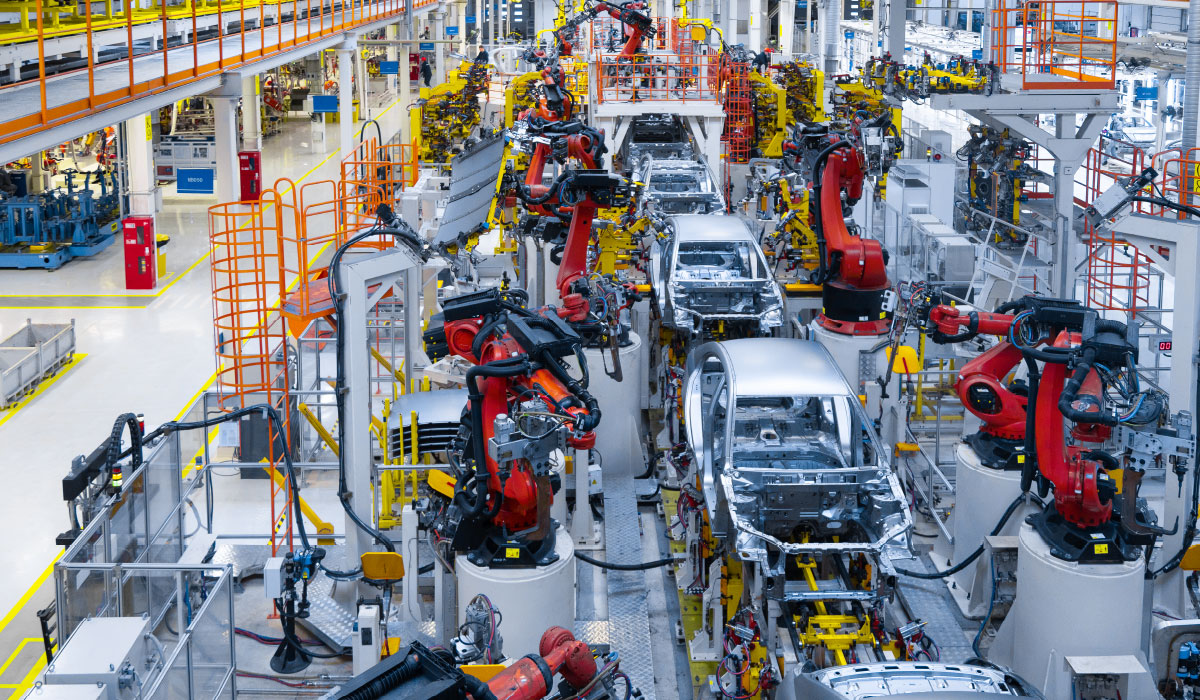 Brushes for Industrial Equipment

A diversity of brushes for industrial use to meet every cleaning and deburring need.
Since 1935, Kowa has developed and manufactured brushes to solve cleaning and deburring challenges in a variety of industries, from automobile manufacturing to steelmaking, aluminum, electricity, printing, construction, textiles, papermaking, food products, and other industries.
We manufacture cleaning brushes, deburring brushes, and other types of industrial brushes suited to customers' needs. Whether the need is for greater operational efficiency, improve quality, environmental considerations, whatever the issue, please contact us. We can meet your needs with high-quality, high value-added products based on our wealth of expertise.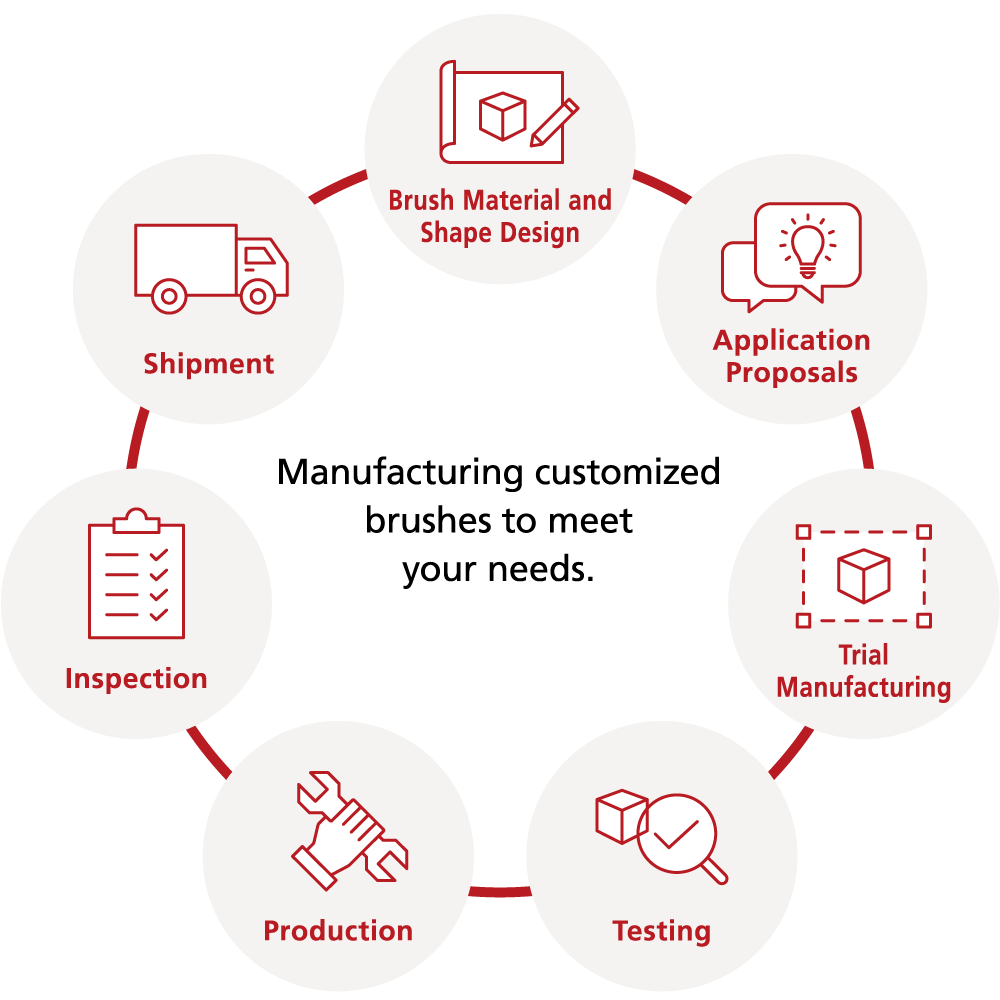 We develop and manufacture customized products, from small lots on up and ranging from ultra-small brushes with an outer diameter of 1 mm to oversized brushes more than five meters in length.
Surface Cleaning Brush for Aluminum Mill Roll
Brushes made from piano wire and a variety of other materials are used in removing foreign matter generated in the process of aluminum production. Our cleaning brushes for use in hot rolling have made us the most popular brand among aluminum manufacturers.

Spiral Roll Brush
Spiral roll brushes are suited for applications such as cleaning steel sheets. The spiral-shaped brush fillings provide completely even coverage in cleaning.

Patented
Triple-Spiral Brush
Used in cleaning steel sheets, these roll brushes feature three brushes filled in spirals that are spaced at equal intervals to minimize brush marks.
The brush portion of triple-spiral brushes has a greater tilt angle than single-spiral brushes, increasing the area of contact with the surface being cleaned. This provides more even cleaning, which also keeps brush marks to an absolute minimum. It also results in a more balanced rotation, which reduces the risk of wear on the core and facilities.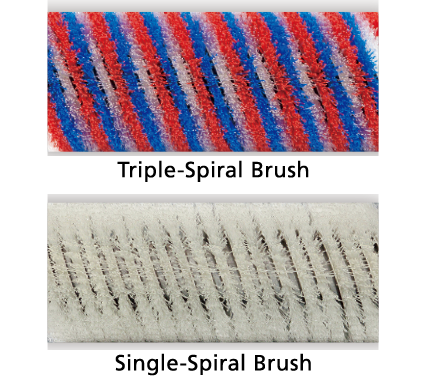 Helical Roll Brush
The brush portion is filled at an angle, creating a spiral pattern radiating symmetrically from the center of the brush, causing the brush to move foreign contaminants outward to the left and right as it rotates. This improves removal of foreign material from steel plates and other sheet products while enhancing cleaning power with more effective brushing.
Patented
Double Helical Roll Brush
These roll brushes feature a helical roll brush fill symmetrically arranged in double rows. This vastly reduces brush marks and enhances cleaning power with significantly improved removal and more efficient brushing.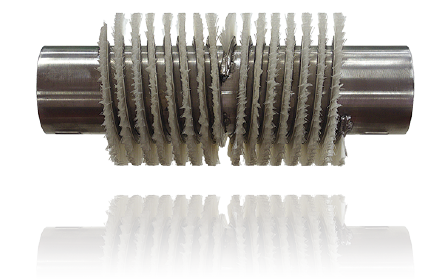 Brush for Cleaning LCD Panels
We developed a specialized ribbon that evenly distributes ultrafine fill a mere 0.05 mm in diameter across the brush surface. Once the fill is inserted, the brushes are rinsed in pure water to remove impurities and minimize contamination during shipping. These brushes are widely used to clean precision products such as LCD panels and solar panel wafers that don't permit even faint scratches. 

Deburring Brushes
We design custom brushes optimally suited to the customers' needs, with our wide selection of fills including abrasive nylon, wire, brass, and a variety of other materials.
Patented
Stainless Steel Stranded Wire Brush
These stranded wire brushes are made by twisting six stainless steel wires around a core wire of the same diameter, and then bending the bundle into a waved shape.
This design gives the brush a thick, springy base with fine tips that present minimal risk of scratching. These long-lasting deburring brushes exhibit superior strength, abrasiveness, and durability, yet are gentle on products.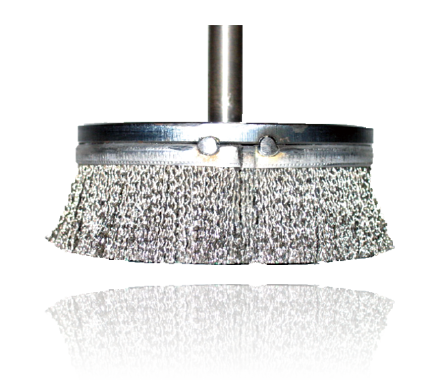 Car Wash Brushes
We developed a special material featuring an M-shaped cross section for use in car wash brushes. The material effectively cleans and rinses off dirt and grime. The material is soft enough to avoid scratching the vehicle surface and retains its water-holding capacity even after extensive wear.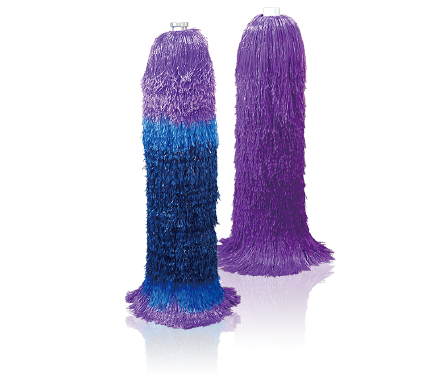 Providing customized brushes, starting with the fill shape design.
Kowa offers optimal fill materials to resolve the customer's issue, selecting from a wide variety of materials, including natural plant- and animal-based fibers, nylon and other synthetic fibers, metal wire, abrasive nylon, and more. We can also develop original fill materials in custom shapes.